Posts in Investing In Real Estate
Approximately 1.1 million homes in the U.S. were in some stage of foreclosure in March, down 23 percent from March 2012 when 1.5 million homes were in foreclosure, according to the latest foreclosure report by CoreLogic.
Housing Market Posts Gains - Sales of previously owned homes were stronger than expected in October, putting them on track to hit their highest annual level since 2007.
Jim Cramer of EXIT PREFERRED REALTY Awarded OICP Designation
Joan Smith, Broker/Owner of EXIT PREFERRED REALTY is proud to announce that Jim Cramer Earns the Own America Investment Certification and joins the Own America Network, a national affiliation of Real Estate Investment Specialists.
Commercial Real Estate is Showing Improvement
The real estate recovery is set to advance in 2013 as modest gains in leasing, pricing and rents are extending across U.S.
Housing market optimism surges in national survey
Oct 10, 2012 06:00 am | Diana Dietz
Results from Fannie Mae's September 2012 National Housing Survey show Americans' optimism about the recovery of the housing market continues its gradual climb.
Well one Michigan Businessman has . . . A Michigan businessman has bought up every piece of property--fully 650 separate properties--for sale at a Macomb County tax auction for a cool $4.8 million.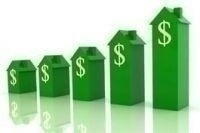 Home prices nationwide increased by 2.0 percent in May 2012 compared to May 2011 and on a month-to-month basis increased by 1.8 percent in May 2012 compared to April 2012, according to the CoreLogic Home Price Index (HPI).